Previous Litter of Dogo Argentino Puppies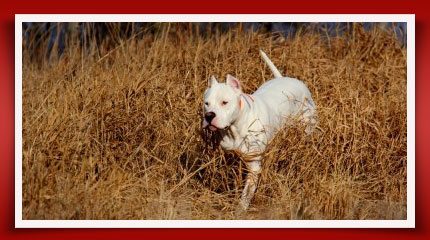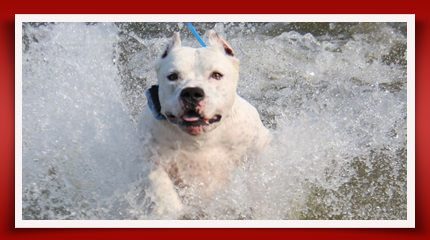 After 5 years of hard work and careful selection, at last there is successful breeding. The dam is Lihuen De Las Pampas. This is her third cycle which is optimal for the best outcome. The sire is Huinca De Las Pampas, displaying all of the proper characteristics of the breed. I am currently accepting deposits to reserve a puppy in the litter. Typical Dogo Argentino litters range from 5-8 puppies. (Located in Minneapolis, Minnesota.) For information about how to reserve a puppy, please visit the FAQ page.
The sire Huinca and dam Lihuen are both extremely dominent, not allowing for natural breeding. In order to preserve their unique qualities we performed two procedures. The first is SURGICAL IMPLANTATION and the second is TRANSCERVICAL INSEMINATION or TCI. The endeavor was successful and produced a Dogo Argentino litter of puppies that combine the excellent qualities of the sire and dam. The sucessful breeding was due to combined effort of consultation with Dr. Don Rice at Stillwater Veterinary Clinic, Minnesota; Dr. Robert V. Hutchison, Northview Animal Clinic, Ohio and Dr Margaret V. Root Kustritz, Professor of Small Animal Reproduction College of Veterinary Medicine; University of Minnesota. The reproductive center that performed the procedures is Stillwater Veterinary Clinic. Dr Don Rice.